Preparing to be a PADI Divemaster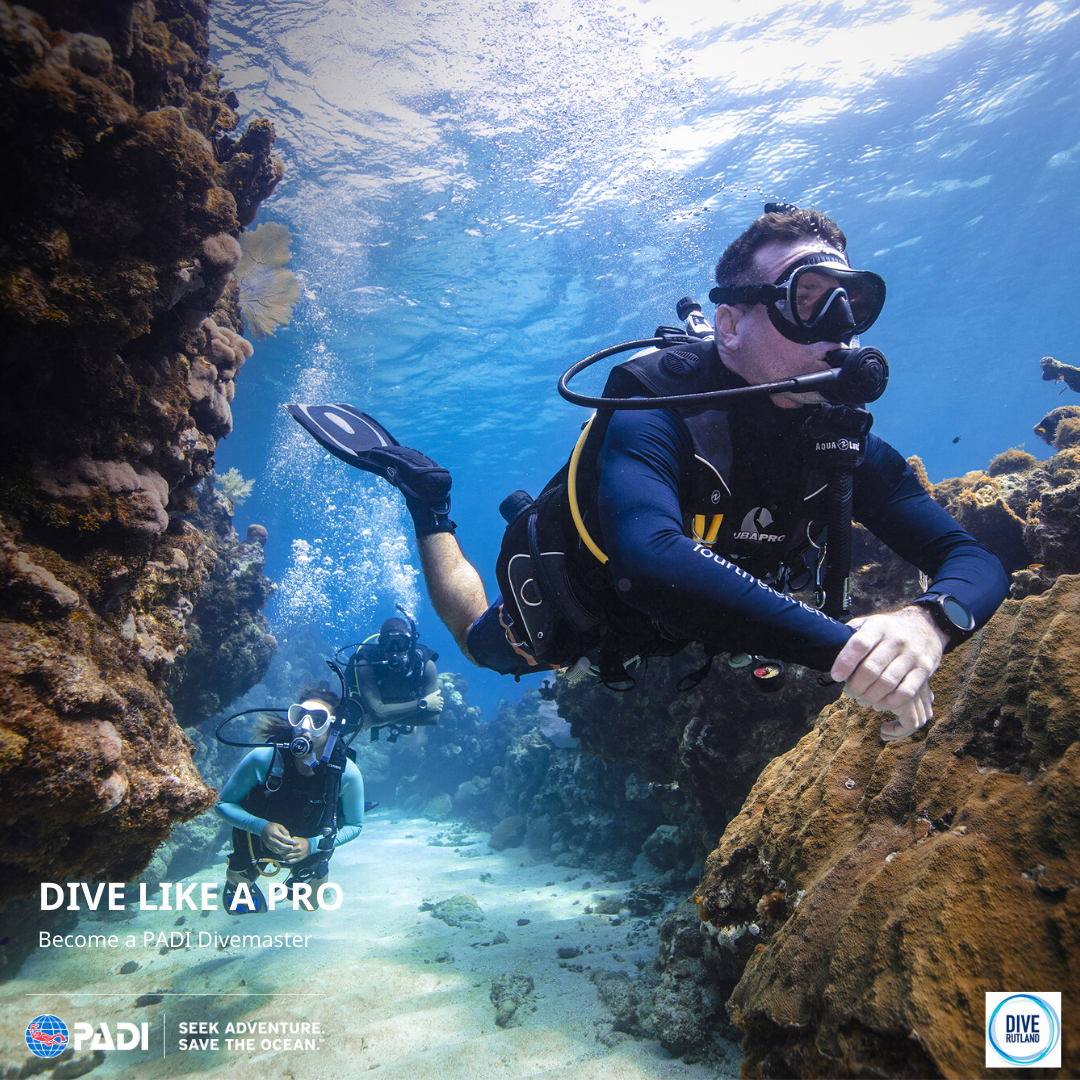 You are looking for an adventure or experience, looking for a complete change of career or even wanting to gain huge amounts of diving knowledge and improving your diving skills and are considering joining a Divemaster course and have questions.

This article is to help you in preparation on your journey to becoming a Divemaster
Prerequisites
To start on the Divemaster course there are a number of pre-requisites: 

Minimum age of 18 years old -Junior Divemaster programs are available
PADI Rescue Diver certification or equivalent.
Medical clearance signed by a physician
A minimum of 40 logged dives - as a general rule, you should have sufficient diving experience to be able to focus on the students and divers under your supervision.
Completed EFR Primary and Secondary Care training within the last 24 months
Mask, Snorkel and Computer as a minimum
Fitness
During your Divemaster course and actually EVERY professional course afterwards you will be asked to complete a number of swim tests.  For Divemaster these are: -
400 metre swim
800 metre Snorkel swim
15 minute tread water
100m tired diver tow
Although not difficult, you do need a level of fitness to complete. These are timed and the faster you are the more points you get and remember Points make prizes.
 
Why are professionals asked to complete these types of tests? As a professional in the dive industry you will be responsible for the safety of students and customers, being fit is part of your 'duty of care' to your client.\
Skills  Preparation
In-water skills - Brush up on your skills
Remember back to your open water course and the skills that you were asked to complete in the pool?  Those are the skills that you will be asked to demonstrate as part of the skills circuit during your course.
Practise them and do not worry if they are not demonstration quality that is what your Divemaster course is for. In order to demonstrate the skills you need to be first of all confident in completing the skill.  As part of your course we will teach you how to demonstrate the skills
Picture: Shows Ben and Tim thinking about how to demonstrate a skill as part of their Divemaster preparation
We have a playlist of the skills being demonstrated by Dive Rutland's resident Course Director Tracey Roberts available on our Youtube Channel
Knowledge
Start reading through your Divemaster theory, read diving magazines and books as well.
 
Read printed materials written by those in the industry as well as outside of it. After all being a professional is not just about diving there are so many soft skills required to be successful such as selling, marketing, website design and communication with a customer all very important. Each of our staff members has their own specialist area and a library to suit.  

Gain knowledge about the marine animals and environments that you will be diving in, this makes your dive briefings more interesting and customers will always ask questions - be prepared.
Equipment
By now, you will have started to collect equipment. The more of your own kit you have, the more comfortable you will be, making your Divemaster course easier. It is not enough to just know your kit. ​
Get up to speed with the latest dive equipment and developments going on in the industry. If the opportunity arises go diving in different types of equipment as there is no 'one size fits all' and your students and customers will ask questions about equipment, helping customers understand their options allows you to make their diving more enjoyable.
Environment
If you are enrolling on to the course in unfamiliar diving environments, such as cold water or low visibility / strong currents, then get diving and gain the experience in those environments. 

We have an active club, get out and go diving. 
What Equipment is needed?
​This is the question that gets asked the most by potential Divemaster students.  Ideally by now you should have a full set of dive equipment, being in your own equipment means you are comfortable and it truly fits.

As a minimum by now you should have have a mask, snorkel and computer.  
 
Make sure your mask is comfortable and is your friend as there is nothing worse than mask fog when you are underwater and responsible for students.  You need to be able to see at ALL TIMES.

All divers should carry safety equipment and as a minimum have 1 visual and 1 audible signalling device something like and SMB and whistle.
 
Compass so you can navigate – again you should have one as you completed navigation exercises as part of your Advanced open water course!
 
Maybe something to write on and write with – this will help you when you do your mapping exercise as part of this course.  They are also useful occasionally to be able to communicate with your buddy and / or your instructor.
Attitude
​Having a great attitude is very important.  At times things will be more challenging than you anticipated.  Just because it appears difficult does not mean it is impossible.
Next Steps
We have provided you with items to think about as part of your preparation towards becoming a Divemaster, but there are other things to consider as part of that journey
Where to train
Who to train with
Do you do the course as a set 9 - 10 day short / intensive course or over a longer period of time
We will be publishing additional articles and linking forward and back to this blog as we publish them.

In the meantime if you have any questions then please contact us to discuss, our lovely staff will be please to help.
Additional Articles you might find interesting
---