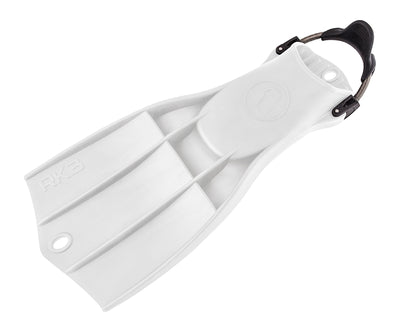 Apeks RK3 Fin
Regular price
£115.00
/
Tax included.
Shipping
calculated at checkout.
---
In stock, ready to ship

Inventory on the way
Apeks RK3 Fin
The Apeks RK3 fin was developed through a collaborative effort with the US military, They are highly acclaimed fins and recognized for their exceptional performance and reliability. Constructed from durable thermoplastic rubber, this rugged fin is engineered to withstand demanding conditions. Their notable features include an oversized foot pocket, specifically designed to accommodate drysuit boots, and a convenient spring strap for effortless donning and doffing.
The RK3 is available in three sizes: Medium, Large, and Super.
To ensure accurate sizing, we have refrained from providing a shoe size range for the RK3 fin, as it can be misleading. The appropriate size of the fin largely depends on the environment in which it will be utilised. For instance, if you frequently dive in warm surroundings with wetsuit boots, or traverse pebbled beaches while wearing a drysuit with rigid dry boots, both types of footwear might be a size 9 but occupy different amounts of space within the fin's foot pocket.
Therefore, we strongly recommend coming into store and trying on the fins with your own footwear. This ensures that you obtain the correct fit tailored to your diving style.
The RK3 fin traces its origins back to one of the first vented rubber fins introduced in North America, gaining popularity among military and professional divers. It boasts a compact and ultra-rugged design, making it suitable for use in harsh environments. The improved foot pocket, combined with spring straps, facilitates easy usage even with cold hands or thick gloves. This design has been a staple choice for military personnel, special ops units, coast guards, and public safety divers for several decades.
With its short and wide blade, the RK3 fin delivers maximum forward thrust while maintaining excellent maneuverability. The vented blade design reduces resistance during the upstroke and enhances thrust during the downstroke. Additionally, the vents eliminate vortexes that can form along the back of the blade, similar to how split fins function. The blade material is specifically engineered to withstand the toughest environments, extreme temperatures, and rigorous usage.
Furthermore, the fin features two large grommet holes, allowing easy storage by accommodating most karabiners while accessing the dive site. The inclusion of spring straps as a standard feature enhances convenience, while the custom-designed buckle ensures optimal positioning of the straps. If necessary, the simple push-pin design enables straightforward replacement of the springs.
Available in sizes Medium, Regular, and Super, the Apeks RK3 fin offers a comprehensive range to cater to various divers' needs.