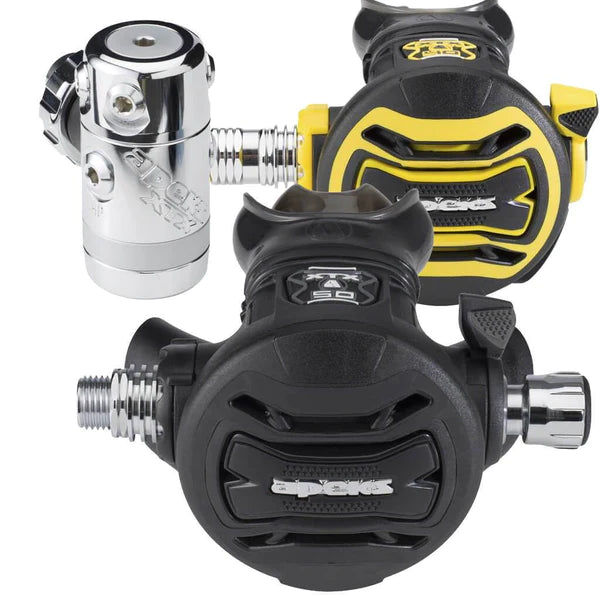 Apeks XTX50/40/DST Stage 3
Regular price
£810.00
Sale price
£699.00
/
Tax included.
Shipping
calculated at checkout.
---
Low stock - 1 item left

Inventory on the way
Apeks XTX50/40/DST Stage 3
The Apeks XTX50 has all of the features and performance of a high end Apeks regulator at a middle market price.
The popular features of the XTX40 are further improved in the XTX50 with the addition of an opening effort control knob which allows you to adjust the breathing resistance to your own preference at any time during the dive.
The DST first stage allows you to configure your hoses perfectly and the rotating turret relieves the tension between your Octopus, BCD and suit inflators. All of the XTX range have a large venturi control lever to help you control those pesky unwanted free flows. Also, included in the box, is an alternative, wider exhaust T that you can change yourself that is ideal for underwater photography. A light weight, Miflex style hose connects the second stage which can be re configured by your favourite Apeks approved technician for left hand operation.
The XTX50 is good for diving with Air or Nitrox mixtures up to 40% in water above and below 10 degrees C.
The XTX 40 Octopus
The XTX 40 Octopus is the good choice of alternate air source for the XTX100. It has all of the features that you will recognise from the XTX40 regulator and is approved for use in water temperatures of above and below 10 degrees C. The body of the Octopus is moulded with an active additive that kills MRSA, E-Coli, bacteria and fungi contaminants.
The venturi control lever helps you prevent unwanted free flows when used as a pre dive lever and you will find the high visibility yellow front cover along with the 36 inch yellow braided hose easy to locate when you need it.
If you have a particular preference the Octopus can be configured by our technicians for left hand routing.
This combination is approved for warm or cold water use and is suitable for Air or Nitrox mixtures up to 40% O2 out of the box.
Not the right regulator for you then have a look at our other options here