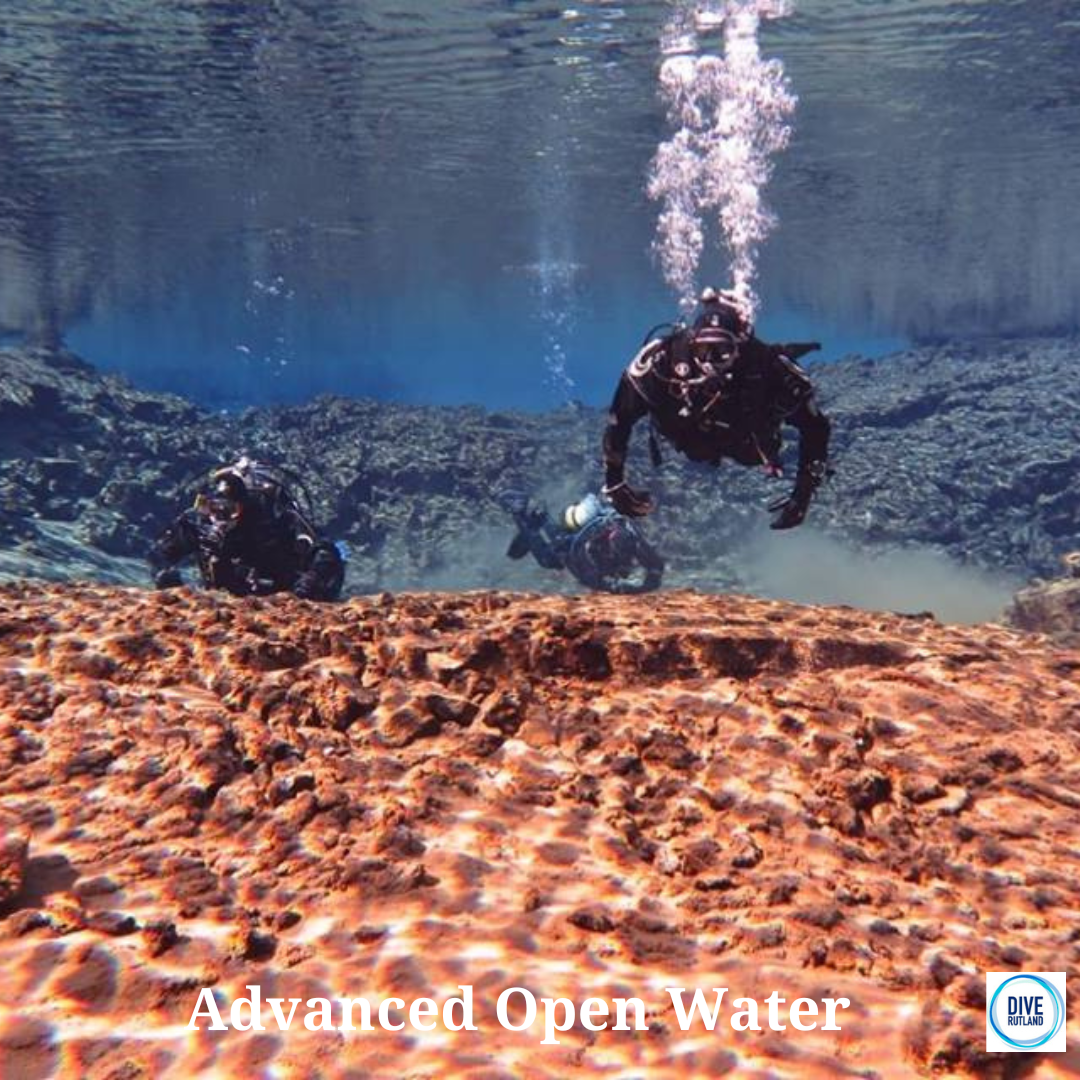 PADI Advanced Openwater Diver - TWO Specialities
Regular price
£300.00
/
Tax included.
Shipping
calculated at checkout.
---
Low stock - 1 item left

Inventory on the way
PADI Advanced Open Water - TWO Specialities completed with Dive Rutland
Offer to those who have completed Two Specialities with us here at Dive Rutland
For those of you who have completed two full specialties with us here at Dive Rutland then you can choose not to complete a Five specialty Advanced Open water course because we can credit the two specialties against two of the five Advanced Open Water dives therefore saving you money.
What Will I Do?
Two of the Adventure dives are mandatory, these are: Deep and Navigation.  After all we are qualifying you to a new depth of 30 metres, so experience that with a professional, learn the additional skills and knowledge to remain safe and then

The navigation dive - but I learnt to use a compass on my Open Water course we hear you say.. Yes you did but not really!

Now you REALLY get to use it, it's not just about being told when to turn around and go back (as per your open water) but you work out when to turn using various techniques you will learn about and you will show mastery by swimming a very large square.   You should always dive with a compass and know where you need to come back to or how to get that location on a dive where the interesting stuff is.
Then with your instructor you will choose the other three adventure dives and some of those available from us here at Dive Rutland are listed below.

Some of the adventure dives we conduct are subject to location and time of year, for example we can conduct a drift dive when we are on a trip. 
Please chat with us about your choices and we can advise accordingly!  As we can work with you to make future training more cost effective i.e. Wreck Diver is a four dive speciality but do the adventure dive and it becomes a three dive speciality, saving you a few pennies, and there are a few other options similar to this.
Coral Conservation (AWARE)

Delayed Surface Marker Buoy

Digital Underwater Imaging

Dive Against Debris (AWARE)

Diver Propulsion Vehicle

Drysuit Diver 

Enriched Air

Fish Identification

Full Face Mask* 

Night Diver

Peak Performance Buoyancy

Search & Recovery Diver 

Self-Reliant

Shark Conservation (AWARE)
Sidemount Diver

Underwater Naturalist

Wreck Diver 
Usually available only on trips or special arrangement
Altitude Diver

Boat Diver

Cavern

Drift Diver

Ice

*Additional costs and pool time required to learn the required pre-skills
You will certainly enjoy learning advanced skills!  Everything from using a lift bag through to managing depth.

Have fun, learn lots and become a better diver and buddy

PADI Adventure Dives can also credit towards the corresponding Specialty Diver certifications and remember you need five of those for your Master Scuba Diver qualification
When Can I Start?

You can start NOW by purchasing your e-learning from PADI and we will contact you to arrange your in water learning, but THIS IS NOT THE ONLY WAY you can start as ALL of our packages include your chosen theory element, so contact us and we can get you all booked in with dates and release your learning materials
Dive Rutland is committed to helping you learn to dive at a pace that suits you.  All of our open water diver courses start flexibly, you can start when you wish, subject to availability, as all of our schedules are built individually around you and your work/family commitments.  

​Our Open Water training days are scheduled months in advance giving us the ability to plan your course to achieve by dates that suit you
Materials
As part of your course you will choose if you want to learn via the PADI Advanced Open Water Manual or via elearning.

How Long does it Take?
Working through the theory in your own time 

1 Days in Open Water
What Do I need to Know?
Included in the course price is : -
Project AWARE e-certification
Any Other Costs?
Entrance fees for open water site and personal travel costs.
You require for the course a compass and knife as these are PADI mandatory items of equipment.  If you do not have then we have knives to hire or purchase and of course compasses
Club Members  - We offer a 5% discount on any equipment that is directly related to this course and the adventure dives being undertaken i.e Compass and Knives.
What is my next Adventure after PADI Advanced Open Water Certification?
PADI Advanced Open Water Divers of at least 15 years of age can enrol in Wreck or Deep Diver Specialty courses and continue on to the PADI Rescue Diver, maybe become a club member but most of all come diving.