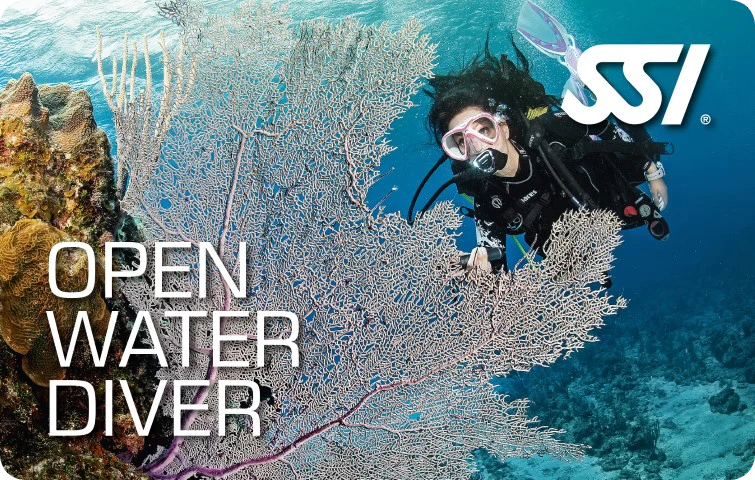 SSI Open Water Course
Underwater is Earth's final frontier, one of the few ways left to explore our world is to be able to dive.
Diving allows you to experience weightlessness, just like being in space. It is the nearest you will get to be an astronaut or sharing space, so learn to dive, giving you the ability and the skills to experience and explore the inner world.
What Do I need to Start the SSI Open Water Course?
Be older than ten years old
Be healthy and reasonably fit - Please read the section below Medically Fit to Dive because if you have any YES (on page 2) then you will need a Physician signature prior to commencing on the course
Be able to swim eight lengths and float for 10 minutes
NOTE: SSI Junior open water diver programme is available for youths (10+). Between the ages of 10 - 12 years may only dive with a professional certified parent or guardian to a maximum depth of 12 metres, 13 - 15 years may only dive with qualified responsible adult to a maximum depth of 18 metres
Open Water Diver can be taught as a Referral program; this means you complete the classroom and pool sessions here with us in the UK. Then, we connect you with an SSI or PADI diver centre abroad so you can finish the program in warm, tropical waters. 
What Will I do?
Over several pool sessions (generally four / five), you will complete the five confined water dives whilst completing some theory activity.
SSI programmes are performance based, and you proceed as demonstrate mastery of the course skills. This allows you to work comfortably, so do not worry if you need more time than extra built into your training schedule automatically. Although we say four or five sessions, it could be six, which equates to 10 - 12 hours of in water pool time.
Diving is like that first driving lesson (for those that drive!) or starting a new job (for those that work!) doing something for the first time can be a bit daunting but with time and practice soon becomes second nature.
Then if completing the full course with us here in the UK, when ready we undertake a drysuit orientation in the pool as ALL of our open water diving is completed in a drysuit suit - this is OUR standard, it is for your comfort, we want you to ENJOY your diving experience and being cold and uncomfortable is not enjoyable!

When ready, then time to complete those four open water dives, generally speaking at Stoney Cove, but at times, other locations are available​
Materials
At Dive Rutland we provide you with all of the equipment you need to have fun, explore and become a safe and knowledgeable diver this includes learning about the fundamentals of scuba diving, all dive equipment and techniques.
All you need to provide is your own swimming attire for the pool and a few additional items of clothing for the open water part.
When Can I Start?
You can start NOW, so contact us and we can get you all booked in with dates and release your elearning materials which will become available by the great SSI app
Dive Rutland is committed to helping you learn to dive at a pace that suits you. All of our open water diver courses start flexibly, you can start when you wish, subject to availability, as all of our schedules are built individually around you and your work/family commitments.

​Our Open Water training days are scheduled months in advance giving us the ability to plan your course to achieve by dates that suit you
Aren't All Open Water Courses the same?
This is a statement we hear a lot, but we disagree not everything is the same or equal. Have a look at our How to Choose a Dive Centre article, which actually should be called how to choose your instructional team.
We train you to be aware of the environment you are in, concentrating on good positioning, streamlining of equipment and how you can become involved to protect our oceans.
Our Quality Matters
Dive Rutland prides itself on high quality training.  Training that makes you a safe and competent diver

Our equipment is modern and regularly serviced. We have a large range of school equipment to fit all sizes and shapes. Our breathing air quality is monitored and externally verified regularly.

We are fully insured and meet all legal obligations placed upon us. This includes full risk management and our staffing ratios exceed industry standard requirements
Course Option(s):
All course options include all diver training. 
Standard Package
Full Diver Training (including all pool fees, Dive Rutland Dive Professional(s) and Great training)
Full SCUBA Diving Equipment Rental and air fills (exc Mask, Snorkel and Wetsuit)
Certification Fees and Certification e-card - Open Water Certification
SSI elearning 
Deluxe Package
Everything from the Standard Package

SSI Drysuit Specialty - why do the full speciality?  well you are being trained in a drysuit and have completed all of the pre-requisite training and only need 1 extra dive to complete.  This speciality allows you to hire a drysuit it is a bit like a driving licence you can not hire a car with out a valid driving license.  Worth £250
Dive Equipment Package Optional:
Mask - Mares Xvision Mask




Snorkel - Mares Ergo Snorkel or Aqualung Flex or Aqualung Zephyr or Fourth Element Splash




Shorty Wetsuit - Typhoon Storm 3mm or AquaLung Dive 4mm
Are there any Additional Costs?
Yes, the entrance fee to the open water training site, which Stoney Cove is currently standing at £27.00 a day
Mask, Snorkel and if you choose Wetsuit.  Our Dive Equipment Package is great value!
What's Next after SSI Open Water?
Once you've got your Open Water Diver certification DIVE Rutland can help you progress your Diver rating and continue diving.
Want To Know More?
---
Prior to any Diver training course students need to complete a Mandatory Medical Questionaire.
Please ensure that you have read the Medical Statement and are sure that you will be able to commence any diver training PRIOR to paying as our Training Terms Conditions apply after payment has been made.
A doctor's confirmation of fitness to dive is required if you answer YES to any medical condition on the Medical Statement.
You can check out the Medical Statement here:

PADI Medical Statement
---
COME DIVING
Red Sea Safari
Our team of highly experienced instructors will be on hand to guide you through every step of the way, and to make sure you have a safe and enjoyable diving experience.
Dive Trips
Don't take our word for it
★★★★★

I cannot rate Dive Rutland high enough. Tracey, Bridget and all the team have shown me unending patience and understanding and I have got my open water certification. Thank you to you all for sharing your knowledge and tips. Can't wait to start my next course.
★★★★★

We are lucky to have a top notch Dive school on our doorstep in the form of Dive Rutland, My thanks to Bridget my instructor for her endless enthusiasm both in the theory and the practical applications of diving. Then to Tracey again for your skill and excellent support and for putting together a great community of divers who have helped and supported us.
★★★★★

Friendly, professional and committed to ensuring you get the best diving training and diving experiences, whilst upholding the highest of standards. Tracey and her team offer everything you need from newbie to experienced diver. Highly recommended.
★★★★★

Add customer reviews and testimonials to showcase your store's happy customers.
★★★★★

Add customer reviews and testimonials to showcase your store's happy customers.
★★★★★

Add customer reviews and testimonials to showcase your store's happy customers.