All you need to know about purchasing a Cylinder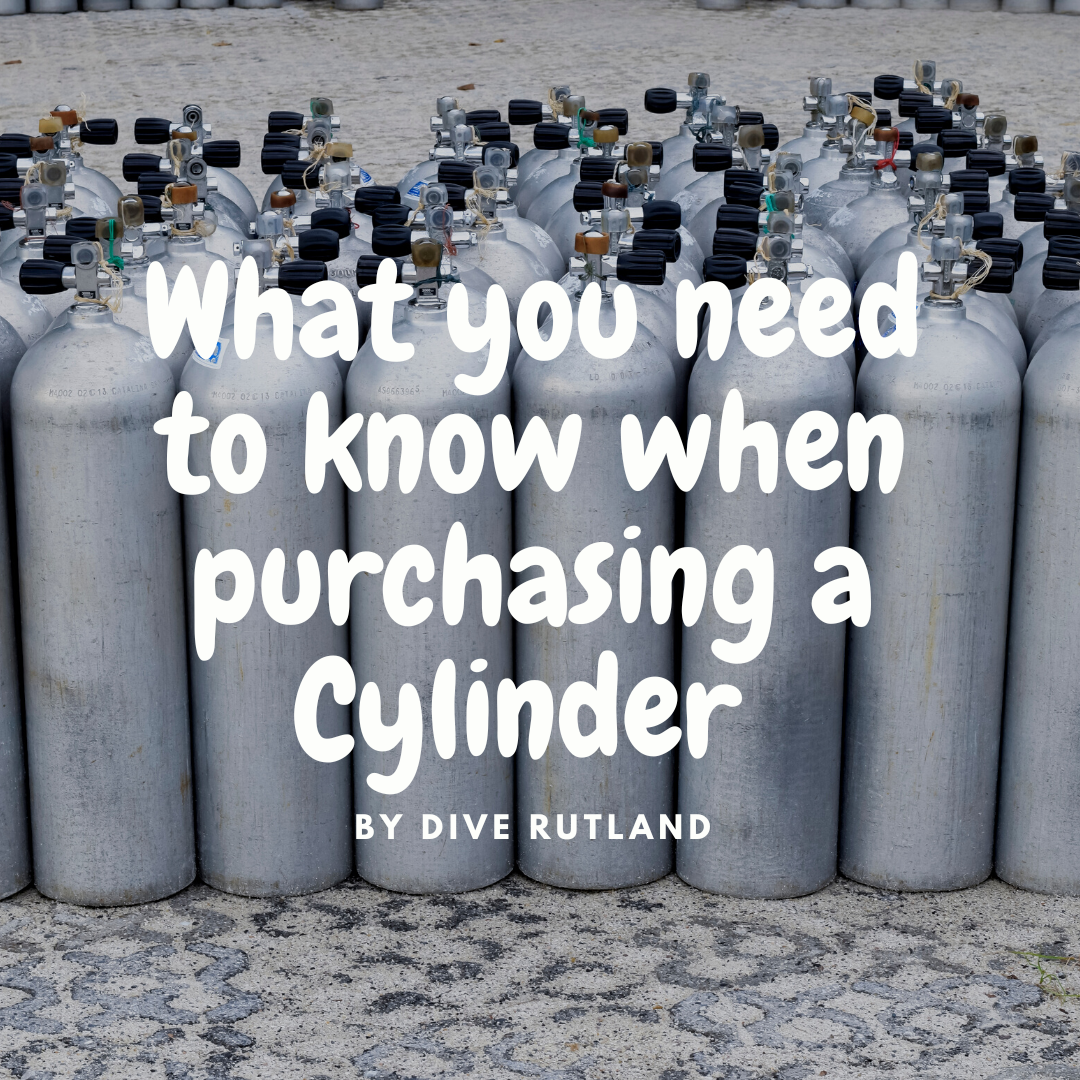 There is nothing wrong with purchasing second hand equipment, it's a great way for divers in particular to build up their own portfolio of equipment, but there are a number of considerations as the purchaser you should be aware of.
Today, we are going to look at purchasing Cylinders be that new or secondhand and not just those used for Scuba Diving, but ANY cylinder that you are going to use to hold air or want to be filled with air.
Here in the UK we have to follow a number of rules and regulations when you want your cylinder to be filled with air and in recent times we have seen a number of cylinders purchased from various sources that if the purchaser had known a few little bits of information, they would not have found themselves out of pocket.
Cylinder Markings
On the neck of every cylinder is a set of markings, which tell you a number of things about the cylinder.
Is the Cylinder in test?
​To allow your cylinder to be filled it has to be 'in test' and YES it is possible you could purchase a NEW cylinder that is out of test, particularly if it has been on a supplier's shelf for a while.
 
The cylinder manufacturers date, in the above example it is 2012/02 (bottom row at the end), so manufactured in February 2012.  If the pillar valve has a gauge attached to it then the cylinder is on a five year testing cycle so due a test in February 2017.  No gauge then 2½-year test cycle so August 2014.
 
If current date / month is greater than the required test cycle is there an additional test label attached to the cylinder by the IDEST test centre that has an end date past the current year / month?   There will also be a physical stamp on the cylinder neck with the actual year / month when it was actually tested – so if no label revert to looking for test stamp
 
Not in date then it cannot be filled.  But do not worry, it is possible to have them tested and this is something we can arrange for you, but if buying an out of test cylinder you want to have the best chance of it passing the test.
​If the cylinder is a 232 bar cylinder then it should have a 232 valve installed, if a 300 bar then a 300 bar.  The pillar valve will have 232 or 300 engraved in it.
Pillar Valve - Does the pillar valve match the cylinder?
If the cylinder is a 232 bar cylinder and has a 300 bar valve then the filling station will refuse to fill the cylinder.
 
In the markings above this cylinder is a 232 bar marking as indicated on the second row PS232 Bar
Is the Cylinder made to UK Standards?
The Cylinder has to be made to BS standard rating, in the picture above BS5045 examples that are not are markings of DOT this is an imported cylinder originally made for the American / Canadian market
 
If no BS stamp – the cylinder cannot be filled
Types of Cylinders
Cylinders can be made out of Steel, Aluminium and Carbon Fibre 
 
If purchasing a Carbon Fibre cylinder then their markings are on a label incorporated in the reinforcing wrap of the cylinder
 
These types of cylinders have a maximum design life, which is generally 15 years; the cylinder will be marked accordingly.
 
If the wrap has been tampered with then the cylinder will not be filled.
Secondhand Cylinder Condition
​A cylinder that is chipped, rusty, generally in a sad state of repair then it is a risk to purchase.  On saying that, it is possible during the test cycle to have the cylinder sanded and repainted, so you could grab a bargain and get away with it.
Occasionally we have secondhand cylinders for sale.. have a look on our Secondhand webpage
What would we advise?
Purchase a cylinder that is in test, that way you know what you are getting, you will pay a little more but you get piece of mind.
 
Consider attending the Equipment Speciality course and find out more about dive equipment, how to save a dive by having the right spares with you and how to fix basic equipment issues whilst gaining a deeper understanding of various pieces of dive equipment
---