Waterproof Changing Robes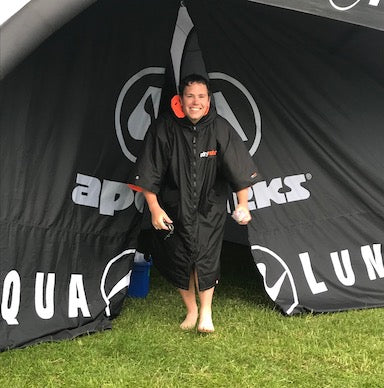 Being in the UK dive industry means a lot of your surface intervals are spent standing around in all weather conditions so you need to be prepared. It doesn't matter if you are sat at an inland dive site or out on a dive boat in the English Channel, you generally see one of the following:-
Storm Poncho by Fourth Element;

Dryrobe; or

Moonwraps
Not only are these designed to keep you warm and dry, another benefit is they give you somewhere to get changed under so as these items are not just for divers but can be used for pretty much any activity - open water swimming / fishing / dog walking / standing on the side of a sports field watching others running around / sitting around a campfire are just a few ideas

They are great for chucking on over what you are wearing to add another barrier from the elements and to stay nice and dry when the weather turns wet. 
Fourth Element Storm Poncho
Fourth Element Marketing Blurb.
This all weather poncho is warm, fast drying and packs down small, enabling you to take it anywhere. Throw it on to get changed into your wetsuit at the beach or on the boat. Use it to warm up after a session in the water or to cover up between dives. The waterproof, fleece-lined fabric is lightweight, cosy and manufactured using an environmentally friendly, fluorine-free waterproofing treatment. With side vents secured by poppers, getting changed is simple, with generous hand warmer pockets adding to the comfort factor when warming up. The adjustable hood features a peak, providing excellent protection even in the worst of weather, making this a piece of gear you'll never want to be without.
Features of the Fourth Element Storm Poncho
Flourine-free DWR (PFC water-repellence)
Poncho style with side seam poppers for easy entry and changing
Adjustable peaked hood with hidden toggles
10,000mm HH waterproof/weatherproof
Soft grid lining 37% recycled S.Café® polyester
Two lined hand warmer pockets
Versatile garment, perfect to keep warm in adverse weather, between dives or when getting changed
Internal name label
What makes the Fourth Element Storm Poncho OceanPositive?
Using fabric manufactured according to the Bluesign® standard, the Storm Poncho is produced using innovative, resource-conserving and environmentally friendly techniques. The fleece backing contains 37% recycled yarn with S.Café® technology, derived from post consumer plastic bottles. S.Café® process embeds coffee grounds into the recycled yarn surface, changing the characteristics of the filament and provides faster drying times along with increased odour resistance and enhanced reflection of UV rays.
Dryrobe
Marketing Blurb from Dryrobe
Get dry, cover up and stay warm with dryrobe®. If you find yourself hanging around at sporting events, waiting to participate or watching your kids, a dryrobe® Advance Long Sleeve will keep you warm in any climate.
You don't know how much you need a dryrobe® until you own one.
Enough space to easily get changed in, without exposing yourself to the elements
Leave it on over your clothing or wetsuit
Re-use multiple times without the dryrobe® ever feeling wet or cold
Preserve your energy and core temperature with full protection from whatever the weather throws at you
Our advanced inner lining draws the water away from the skin and into the pile of the fabric
The 2-way YKK® zip allows fast easy entry and exit. Operate from either inside or outside
Keep your hands warm in our fleece-lined exterior zip pockets
Store your essentials with multiple pockets, both inside and out
Safely store your valuables in the 2-way waterproof zip chest pocket
At only approx 1.3kg it can be packed down small into a travel compression bag
You'll use your dryrobe much more than you think, it will live in your car and be a lifesaver on many a cold morning or chilly evening. Whatever you are doing, from camping trips to elite level sporting activity, it's all #dryrobeterritory.
Features of the Dryrobe
The dryrobe® Advance is one tough bit of kit. It's been designed and tested to stand the wear and tear of an active lifestyle, cold conditions and any challenge you face. A dryrobe® Compression Travel Bag is available for increased storage and portability.
Waterproof and windproof outer shell fabric
Super-warm synthetic lambswool lining (51% acrylic, 49% recycled polyester)
Tailored, fitted sleeves with hook and loop fasteners at the wrist
Full length 2-way reversible YKK® zip
Minimal sealed seam construction
Deep, fleece-lined external zip pockets
Huge 'A4' size internal, soft-lined 'poacher' pocket
Internal waterproof zip entry pocket - ideal for phone/wallet
Super light construction - approx 1.3kg (dependant on size)
dryrobe® is ideal for use out of the water. Be aware that falling into water while wearing a dryrobe® would present a serious risk of drowning, even for the strongest of swimmers. We do not recommend or encourage you to use your dryrobe® while on the water.
Be aware of the dangers, educate yourself and your children to the risks with all sporting activities.
Have fun, stay warm and play safe.
Moonwrap
Marketing Blurb from Frostfire on the Moonwrap
---