Dream it. Believe it. Achieve it!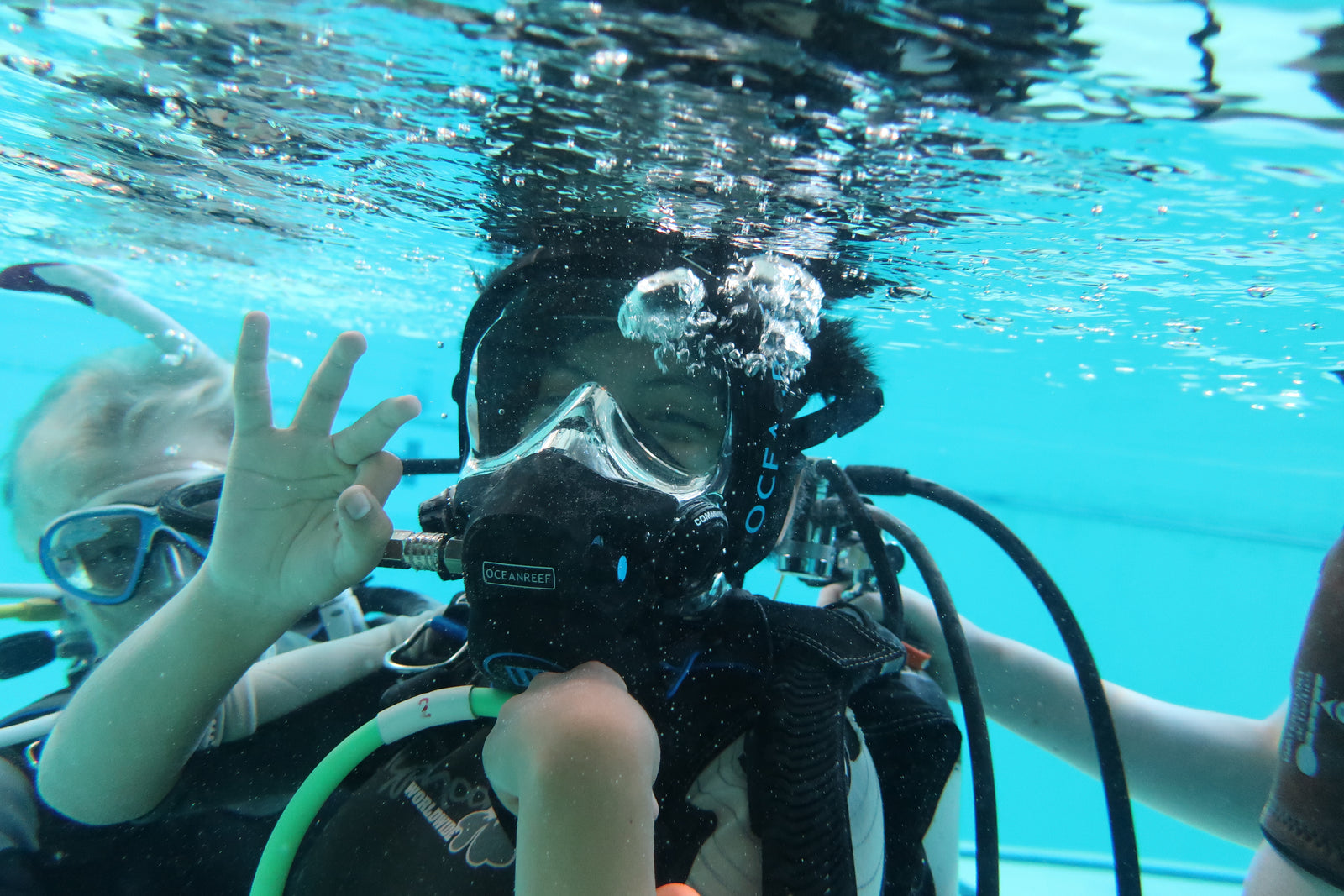 Dream it.  Believe it.  Achieve it!
The project to enable two young people with cerebral palsy to dive with dolphins.
The aim of this blog is to provide everyone with what we are doing, a full no bars account of the trials and tribulations of delivering on a promise.  A very simple promise on the face of it to dive with fish and dolphins in their natural habitat.
SCUBA diving should be fully inclusive but when costs are high is it really?
Dream it - How did this all start?
(this section has been written by the twins mum - Claudia)
This all started years ago when I saw an article in our local magazine about a local diving club who claimed to be open to people with disabilities. Always on the lookout for activities my twins can access (disability is not often catered for in a rural location), I called Dive Rutland and asked if it was true? Without hesitation, Tracey said 'yes we are'! And so began my dream, for both of them both to learn to dive. Little did I know Tracey would take this several steps further, making them a fateful promise: 'If you work hard at this, one day you'll dive with dolphins!'
Josie has milder cerebral palsy than her twin. She is ambulant and relatively agile. But due to poor core stability, spatial awareness, concentration, visual perception, and a host of other issues, trips, bumps and falls are frequent. As a little girl bloody knees and hands came with tears as an everyday occurrence, even when her friends had long grown out of them. After using a walking frame for months, she finally walked independently at two and a half years old.
Interestingly, Josie is very expressive in her physicality - she has always loved to dance for example. So, I've often wished for her to experience an environment without gravity and hard surfaces, where she could experience freedom of movement without constant disappointment, pain and embarrassment. Scuba diving, it seemed to me, might just provide her with that.
Further, Josie is passionate about wildlife and has long had a passion for dolphins in particular since she was given an 'Adopt a Dolphin' present as a young girl. That dolphin undoubtedly fed into her passion for all animals. This led to a weekend job at our local zoo and ultimately a professional career beginning this September as she leaves school to embark on an Animal Studies course at college. So, of course, Tracey's promise was all the more tantalising for Josie!
When Josie began diving she took to it instantly, finding her freedom in seconds! She was thrilled at being able to move freely, express her physicality and to get from A to B without mishap. She quickly learned the techniques needed to learn and progress through the practical skills and has gained her Junior PADI Seals Team certificate. She's now ready to begin her Open Water qualification and find those dolphins!
 
The challenge for Ace is more fundamental. Their cerebral palsy is profound and complex, meaning they have all the difficulties Josie has but to a greater degree. Ace can't stand or walk, even with help.  They use a powerchair and are hoisted for all transfers. They too, love to express themselves physically but clearly this is much harder for them to achieve. They work hard at their physiotherapy exercises every single day and has made great progress, but this can be demoralising when it's the same set of floor-based activities day in, day out. So, how amazing would it be for them to be underwater where, with the right amount of buoyancy, they could potentially move from one place to another independently . . . and that movement could be in three dimensions?!
Ace struggled with the breathing regulator during her PADI Bubblemaker course as their poor muscle tone combined with their tendency to smile (Tracey's way too funny!) meant water was getting in and they couldn't stay under for long. So, during covid, Tracey devised a plan and that was to try Ace in a Full Face Mask as it would allow Ace to breath directly into the space in front of them. This made communication easier; smiles are now allowed; the mother is less stressed; and amazingly, they achieved the PADI Seal certificate!
 
So, like Josie, Ace is holding Tracey to her promise of diving with dolphins and their next step is the HSA Open Water qualification. There's a lot of pool and theory work to put in before then but we're well and truly onto the 'Believe it' section of this crazy dream that began all those years ago!
Believe it.
This phase of our project is about me (Tracey) actually working out how to deliver on that promise of diving with Dolphins.  A promise that was not made lightly and although we could take the easy route of diving in an aquarium.  Ace is confined to their wheelchair and is free when under the water, why take them to a captive environment - they are already captive and like the animals in an aquarium they should be free to!
This journey will take us a little longer, the open water elements can only be delivered somewhere warm and Ace doesn't travel light!
Most of us only have our dive equipment to pack, but Ace has their day-to-day equipment, mum, and carers too, so the costs to certification are so much higher.
Project Costs - Estimated
We need to raise as a rough guide £25K for the project.  These costs will be formalised and formally tracked against but here goes:-
| | | |
| --- | --- | --- |
| Budget | | Total |
| Confined Water Training | | |
| PADI Elearning | | £360.00 |
| Pool Hire | 20 Hours | £1,700.00 |
| Carers - Pool Support or Mileage Costs | Carers / Angie | £520.00 |
| Equipment - Mask / Snorkel / Wetsuit / Fins | Josie - Trying to get supplier to provide FOC | £415.00 |
| Equipment - Wetsuit / Fins | Ace - Trying to get supplier to provide FOC | £300.00 |
| Equipment - Adapted BCD (i3) / Full Face Mask | Ace - Trying to get suppliers to provide FOC | £1,500.00 |
| Transport to / From Airport | | £0.00 |
| Parking - Airport | Claudia & Young Persons | £300.00 |
| Fuel - Vehicles | Claudia & Young Persons | £100.00 |
| Congestion Charge | Claudia & Young Persons | £12.50 |
| Taxi - Staff / Carers to Heathrow | Taxi & Congestion Charge | £850.00 |
| Flights / Transfer to Resort / Accomodation | | |
| Flights | Price based on October 23 / cabin bag & 23Kg hold luggage- October 24 not yet available | £7,200.00 |
| Baggage | Girls - dive equipment / FFM | £100.00 |
| Visa's | Meet and Greet / Visa  | £240.00 |
| Transfers | From Hurghada or Marsa Alam included | £0.00 |
| Accomodation  - Roots Red Sea | full Board & Soft drinks | £7,320.00 |
| Diving Egypt | | |
| Dive Equipment | Cylinder & weight incl. | £0.00 |
| Equipment Hire: Wing or BCD /  Regs Hire / Weight Belt / Full Face Mask / Wetsuits / Masks | Trying to get Suppliers to donate - Mask / Wetsuits / Fins | £160.00 |
| Equipment Service | FFM service prior to travel | £120.00 |
| Daily Reef Tax (for week) | Paid locally (pay cash) | £50.00 |
| Decompression Chamber - Egypt Donation | | £350.00 |
| Offsite Shore Dive:  | Aim for dugongs or dolphins | £350.00 |
| Extras | | |
| Tips | Paid locally (cash) £10 a day per person | £560.00 |
| Trip Shirt | | £240.00 |
| Sponsor Thank you banner | | £100.00 |
| Dive Rutland Staff Member(s) | Dive Rutland Staff donating time | £0.00 |
| Travel and Dive Insurance |   | £800.00 |
| Total |   | £23,647.50 |
Working on 2023 pricing
Project Costs - Spent so far
Confined Water Training

Cost

 

 

Actual Paid by Project

 

Description - Pool and Theory Activity

£180.00
£0.00
PADI Elearning Jose - Given by PADI Free of Charge
£55.00
£0.00
Set up of the Red Sea Treasure Hunt fund raising - Costs absorbed by Dive Rutland Ltd.
£168.00
£0.00

Pool - August 21st and August 22nd - 2 x 2 hour sessions (shared session) at Oakham School.  Monies donated by Mr and Mrs Curtis

£336.00
£336.00
Pool - August 24th and August 28th - 2 x 2 hour sessions - Full pool costs at Oakham School  Monies from Red Sea Treasure Hunt fund raising.
All Time and energy by Dive Rutland Staff has been donated to the Project for free.  A few burgers and cups of tea have been provided to keep them happy so far,  so do not worry about them they are fine.
Fundraising
Hashtags
We are using a number of hashtags on the Dive Rutland social media and we hope that people will not only donate, but watch our social media, read this blog and generally support the twins in achieving their dream.
#dreamitbelieveitachieveit #disabilitydiving #cerebalpalsy #acescuba
June 2023
Rutland Show
At the Rutland Show we launched an additional fund raiser which is a Treasure Hunt based on the red sea area.   
£1 buys you a numbered sticker that you can place anywhere on the Red Sea map to say where you think the 'treasure' is buried.  The prize is a PADI Open Water course (or if certified a PADI Speciality of your choosing), 2nd Place = 2 x Discover Scuba Diving Sessions, 3rd,4th and 5th places will receive 1 x Discover Scuba Diving Session.
This will continue to run until the 2500 squares are full.. so expect to be asked every time you pop into the dive centre for a £1.
June Project Funding Update
PADI have donated the online elearning for both girls, so although Ace might not become a PADI Open Water diver as there is no classified diver option (this is still very much under investigation), we do have to extend our thanks to PADI for helping the project out.
July 2023
𝐖𝐨𝐦𝐞𝐧 𝐃𝐢𝐯𝐞𝐫𝐬 𝐇𝐚𝐥𝐥 𝐨𝐟 𝐅𝐚𝐦𝐞 𝟐𝟎𝟐𝟑 𝐒𝐜𝐡𝐨𝐥𝐚𝐫𝐬𝐡𝐢𝐩 - 𝐓𝐫𝐚𝐢𝐧𝐢𝐧𝐠 𝐆𝐫𝐚𝐧𝐭 𝐖𝐢𝐧𝐧𝐞𝐫𝐬 - Elsa Maria Cockburn
𝐻𝑢𝑔ℎ 𝐹𝑙𝑒𝑡𝑐ℎ𝑒𝑟 𝑀𝑒𝑚𝑜𝑟𝑖𝑎𝑙 𝑇𝑟𝑎𝑖𝑛𝑖𝑛𝑔 𝐺𝑟𝑎𝑛𝑡 𝑡𝑜 𝐴𝑠𝑠𝑖𝑠𝑡 𝑡ℎ𝑒 𝐷𝑖𝑠𝑎𝑏𝑙𝑒𝑑 𝑡𝑜 𝐷𝑖𝑣𝑒 - $1000
𝘚𝘱𝘰𝘯𝘴𝘰𝘳𝘦𝘥 𝘣𝘺 𝘧𝘳𝘪𝘦𝘯𝘥𝘴 𝘰𝘧 𝘏𝘶𝘨𝘩 𝘍𝘭𝘦𝘵𝘤𝘩𝘦𝘳
Grant Winner: 𝗘𝗹𝘀𝗮 𝗠𝗮𝗿𝗶𝗮 𝗖𝗼𝗰𝗸𝗯𝘂𝗿𝗻
Yes that is correct, our grant application for Ace resulted in $1000 being awarded to Ace towards their training.
This is the press release ....
Elsa is a PADI Seal Team member and a power chair user with cerebral palsy which means she is unable to walk independently. Diving during her Seal Team experience has helped her mentally and physically by giving her the opportunity not always offered to people with a disability. The Seal Team created an environment in which she was safe and secure, and at the end of each session she could not waitto get back in the water again. Her favorite part of the Seal Team was mastering hovering because it gave her a freedom she cannot experience on land. She wants to continue learning to dive so that she can experience weightlessness and see dolphins in the wild.
August 2023
Over four, two hour sessions in August we saw Josie commence her training towards the PADI Open Water certification progressing nicely through what we know as Confined water dives 1 and 2.  Showing real comfort with skills such as regulator remove and replace and regulator recovery.  Blowing bubbles should be a new skill added to the qualification as Josie is having a great time demonstrating this particular skill.  Needs to stop smiling as water loves a gap but Josie has mastered the art of mask clearing because of it!
Ace, well surprised us all by the end of the sessions we have some great underwater communication (some new signals created to accommodate the challenges).  We got the required hover, equipment builds and the obligatory laughter, even getting down into the deep end for the first time ever.  The deflate button has been found to be amusing as Ace crash lands (supported of course) to the pool bottom.
We need to thank Mr and Mrs Curtis who kindly donated the funds for two of our August pool sessions.
A video has been produced to show some of the underwater antics https://youtu.be/k-6Ajk5_0Ac
August Project funding update.
Mr and Mrs Curtis donated £168.00
Roots Red Sea have offered Josie and Ace accomodation in resort Free of Charge
IDM Servicing offered Free of charge prior to the trip
September
Meet Melton Event
Come and meet the team at the Meet Melton Event in Melton Market place on Saturday 30th September and remember to bring a £1 or more for your Red Sea Treasure Hunt tickets towards the project
---