Trip Report - Scapa Flow - August 2019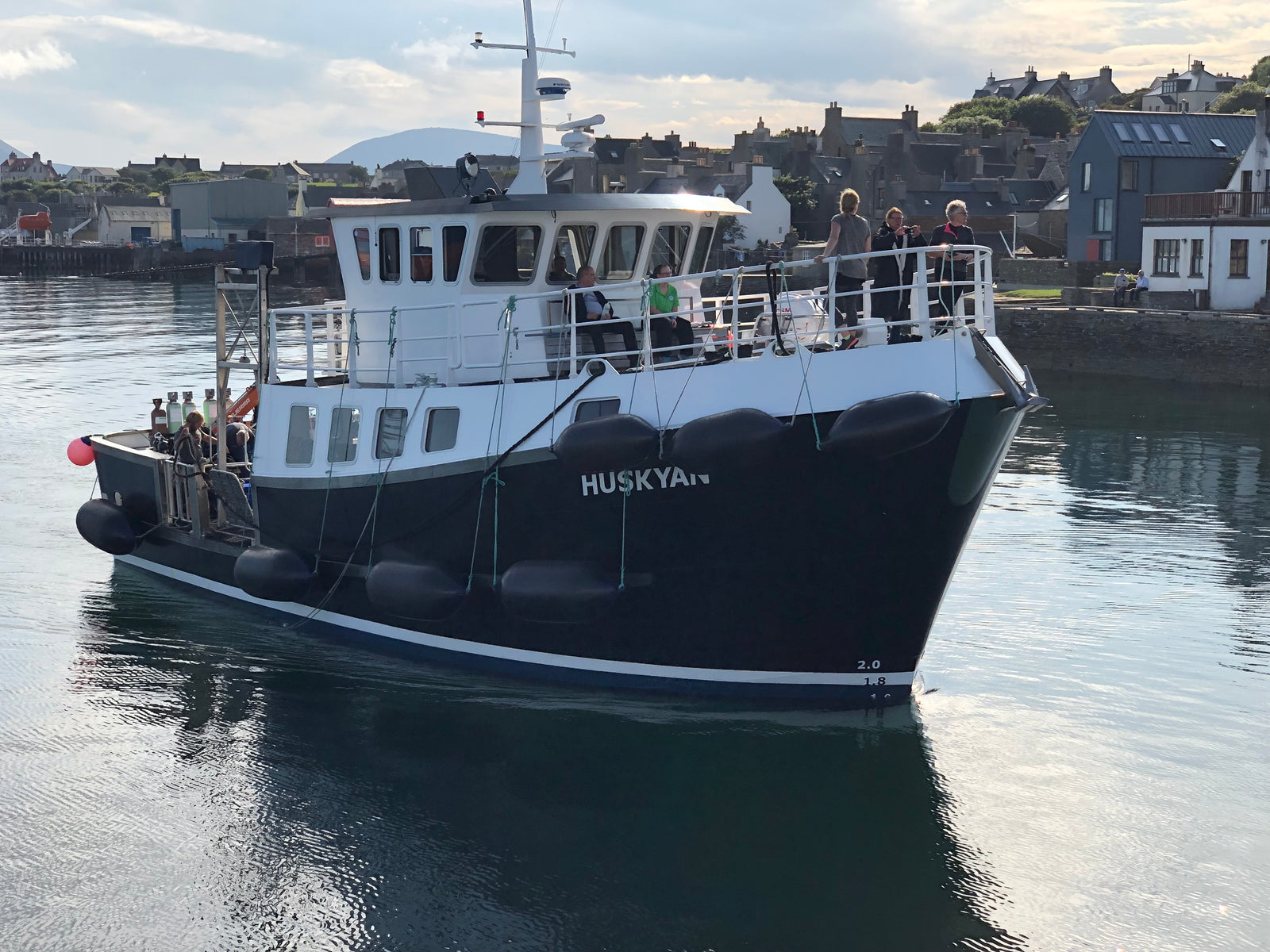 1/9/2019
As a former USN sailor and a granddaughter of men onboard WWII ships that were sunk, diving wrecks has always been a strange experience. Diving the German High Fleet at Scapa Flow was a different experience. When you consider the fleet was a planned scuttle and the loss of life the night of the 21st of June 1919 was from confusion, they became something different.
Briefings onboard the Huskyan are thorough and well presented. Emily paints a picture in your mind not just in a single dive briefing but as the week goes on so that you are able to recognise features across the ships and progress to finding more and more detail as the week moves on. It is truly an educational experience. The diving detail and historical research that Emily includes in the briefings make the wrecks come alive.
The Hot Chocolate between dives was pretty good too..
Starting on the SMS Dresden and making our way through the Konig, Cöln (with incredible spotting glass) Kronprinz Wilhelm; I learned how to recognise features and navigate the wrecks, the scuttle damage, salvage damage, and deterioration over time was presented and the wrecks briefed in a way that meant we could curate our visits underwater. ​
By the time we dived the MarkGraf, I was familiar with the wreckage and able to find the six guns, even if my buddy lost a tad bit of focus.
We had the pleasure of attending our Skipper's lecture for the Scapa 100 conference. Emily talked about her survey work on the HMS Vanguard. If you didn't realise by this point that she was passionate about the wrecks in Scapa Flow, there was no escaping it here. The history and imagery she brings to life reminds you of the peril from naval wars. When she was explaining finding the boots in the officers quarters, the emotion in her voice confirmed she was the right person to carry out this work. 
I came with really only one mission for Scapa, find Tracey the seven guns in the SMS MarkGraf gun run. Only six are possible from outside. Our first dive I spotted five, but I can cross the gun run off as with detailed help I have found all six.

​Tracey is able to wear her MarkGraf T-shirt with pride because she has now seen all six of the guns (three more than ever before!) ​​
The MarkGraf is probably my favourite wreck, but it's hard to pick a second. There is so much to see that I can only imagine returning time after time. Even Skipper Emily passed up an eight metre torpedo tube multiple times before going to investigate. Time will tell what treasures these wrecks may hold as I plan to return in 2022 for our next club trip..​
Trip Report written by Bridget Weid
---