Trip Report - Philippines April 2023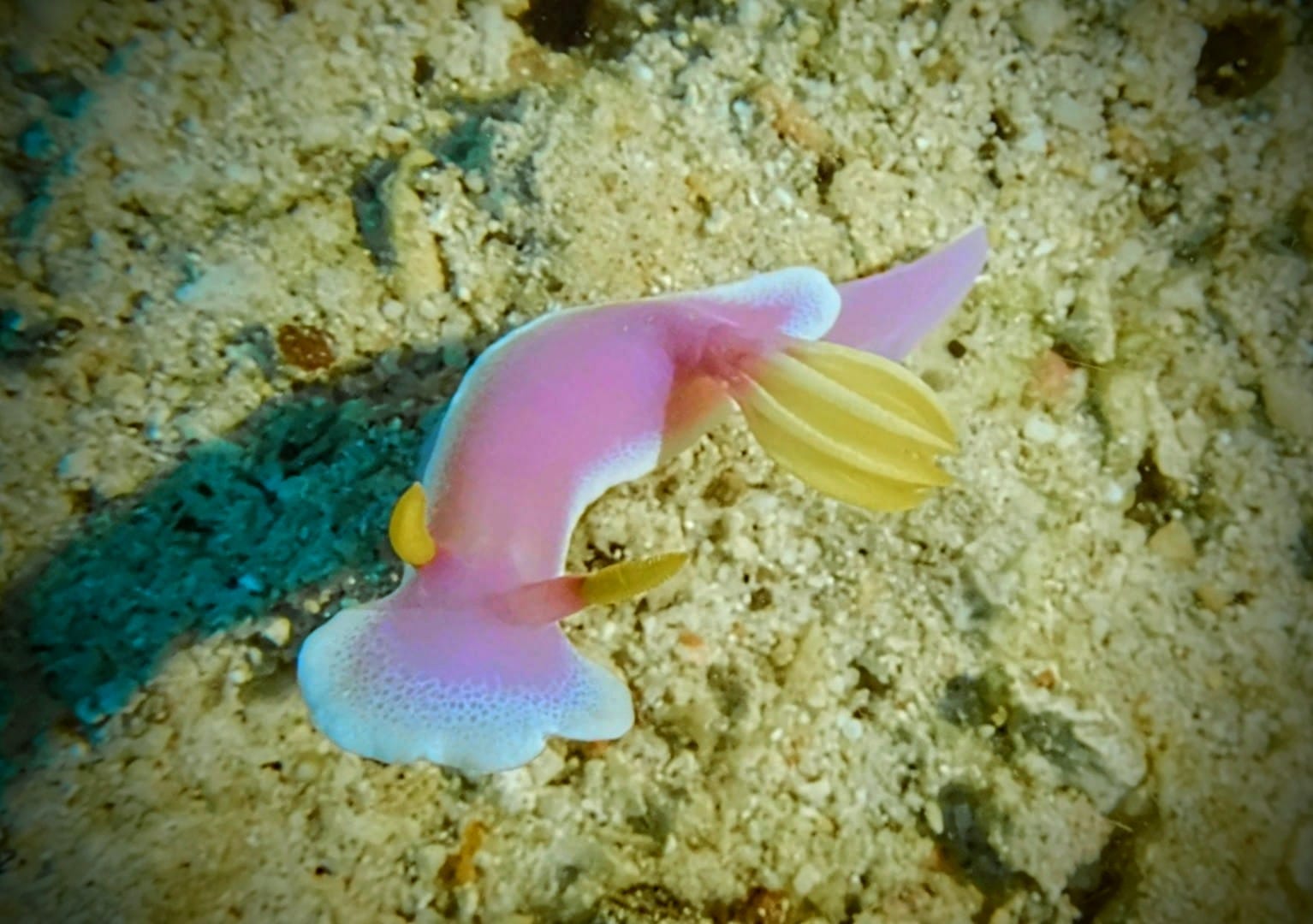 Trip Report - Philippines April 2023  
Club Members in attendance
Martin Coe
Joanna Durrance
Richard England
Chris Foers
Ben Green
James Jennings
Mark Nicol
Tracey Roberts
Kat Smith
Rick Smith
Arrival
After a long journey consisting of Home to Heathrow Terminal 2, Heathrow Terminal 2 to Singapore, short layover in Singapore, Singapore to Manila, Manila to Batangas via road, water taxi to Puerto Galera we finally arrived and what a welcome - Met with warm towels and a flower, even a Dive Rutland Welcome Flag (see nice touches later on)
followed by orientation, paperwork and a short shoulder massage.
Birthdays
During the trip Mark had his birthday, so cake it was and James had his just before leaving so only fair he gets a cake to.  We left the actual partying until the last night though!
Entertainment
During the week we even found ourselves partaking in some entertainment - The Fire Party was well put together by the staff at Scandi Divers.
The Food
We had opted for the inclusive package and as we all know these generally are a buffet and not the best quality food.  Well this was most definitely not the case.
All food was freshly cooked, you chose your breakfast from the breakfast menu of nine choices... Lunch and Evening Meal changed daily - two starter options, three main course and always a pudding..  In fact our day went something like this:-
Get up  (early risers - have tea or coffee on the veranda) Eat Breakfast / Dive 1 / Come back have cake / Choose Lunch / Dive 2 / come back eat lunch / Dive 3 / Come back have cake / Choose Evening Meal / If doing Dive 4 - go dive / Come back have hot chocolate / Quick Shower / Eat Evening Meal / Choose Breakfast
Food was AMAZING, it was really restaurant quality and it came out of the tiniest kitchen
Some Very Nice Touches
During the week there were some additional nice touches... 
Dive Rutland Flag - Being welcomed with a Dive Rutland flag that stayed on the beach for our entire trip
A Flower Necklace
A Friendship Bracelet
A Chocolate Bar
A Turtle Ornament
A Purse
Ben Made 100th Dive
In keeping with the club tradition of marking your 00 dives, Ben came prepared.  Some of the team will be scarred for life, but it was great fun and well done Ben
Let's Not forget the diving
Our diving was varied, wrecks, reef and drift.  The critters well some were so tiny, no bigger than my little finger nail to quite a large turtle (no sharks!).  I am very sure that over the next few months and maybe years you will see so many pictures of the trip and we are planning on producing a trip video to, but a few of us have not yet had the time to properly look through our pictures.. so it will be at some point in the future.
But for now, here are a few to wet the appetite
Saying Goodbye
The Hardest part of any trip is the Saying Goodbye
After such a great trip it truly Saying Goodbye was the hardest part (over and above the long journey time!) but again the staff came out to say goodbye, final photographs taken, we were waved off and videoed all the way.  (Were they being friendly or we 'had been that group' and they wanted to make sure we left!)
Scandi Divers
All I can say is EVERY team member at Scandi Divers are amazing, nothing was too much and we tested them!  Garlic Ice-cream anyone - yes Mark asked for Garlic ice-cream and garlic ice-cream is what he got!
Group Words
The final words come from the club members...
Chris - The " muck dive". What I thought was going to be a a rubbish dive- ended up being one of my favourites.
Sea Horses, squid, sea dragons, all sorts of little critters. Amazing ❤️
Martin - Second the "muck dive", first time seeing seahorses. Also, a close encounter with an iridescent cuttlefish, and the excellent food.
James - The Blackwater dive, although not executed as planned (not really black water when you can see the bottom) the squid at the end was fun to watch
Ben - That giant turtle on the second night dive - gliding out of the gloom was very cool.
Richard - The sighting of the "The very rare rainbow striped benkini"
Next Trip
Our next trips and events can be found on our website here
---