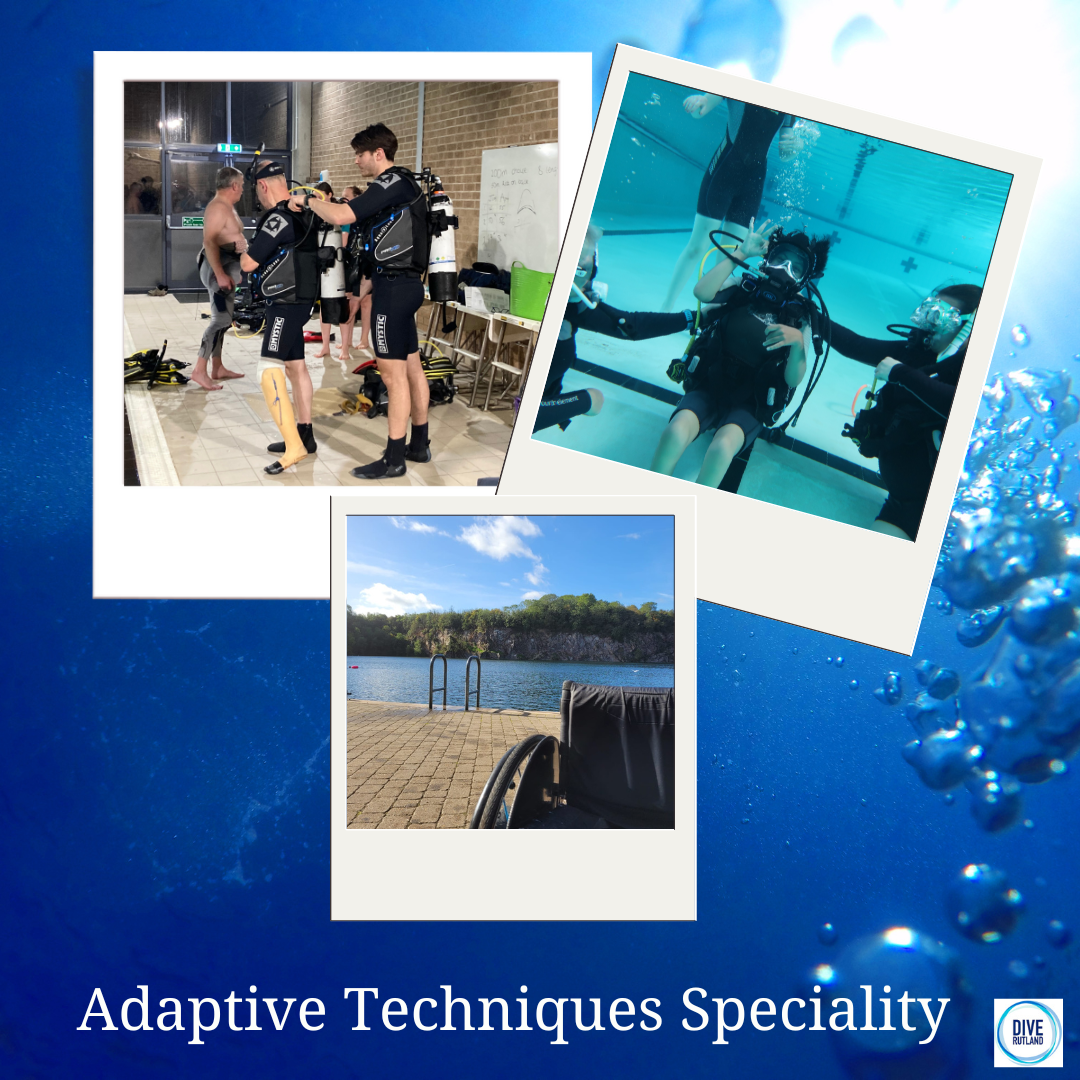 Adaptive Techniques Speciality: PADI
Regular price
£250.00
/
Tax included.
Shipping
calculated at checkout.
---
In stock, ready to ship

Inventory on the way
PADI Adaptive Techniques Speciality
Diving is an inclusive support and Dive Rutland actively engages with divers who have some level of disability who want to come diving.   This course builds on the foundations received in PADI professional courses, further expanding your abilities to be student-centered and prescriptive in approach when adapting techniques to meet a diver's needs.
Advantages of gaining the PADI Adaptive Techniques Speciality

 This course provides PADI Professionals with practical techniques and approaches proven to be effective when teaching and assisting divers with physical or mental challenges.   Along with the expertise that we have gained when we have been teaching in our own courses.
One size doesn't fit all, so therefore, the adaptive techniques speciality incorporates how to get the best out of each individual's capabilities to allow them to meet the criteria.
What do I need to start the PADI PADI Adaptive Techniques Speciality?
It is also recommended that you complete the PADI Peak Performance Buoyancy course beforehand, so you have a better awareness of trim.
Both the PADI Adaptive Support Diver and PADI Adaptive Techniques Course are ran by our very experienced PADI Course Director Tracey, who has a passion for ensuring that anyone who wants to go diving can and provides the safe and secure environment to do just that. So learn from someone who actively applies the skills, practices what will be taught within these courses and the experience gained from things that have and haven't worked.
What will I do during the PADI Adaptive Support Diver Speciality?
Through knowledge development and two diving workshops - one in confined water and one in open water.
This course has a number of goals:-
Help you become more aware and mindful of individual considerations when introducing people with disabilities to diving
Provide you with adaptive techniques that can be applied while supervising and training divers with disabilities in PADI courses and programs
Help you properly counsel and direct student divers, based on their abilities toward PADI certifications, PADI experience programs or toward a disability dedicated diving organisation such as HSA (which our Course Director is an instructor for)
Help you learn additional techniques to motivate and encourage student divers with mental and / or physical challenges.
How long does the PADI Adaptive Support Diver Speciality Take?
Knowledge Development
1 Pool Session - minimum 2 hours
1 Day in Open Water  - minimum 2 dives
This is a performance based speciality, so additional time and dives might be required.
Any other costs?
Not included is the Entrance fees for open water site and personal travel costs
What is next on completion of the PADI Adaptive Support Diver Speciality?
Join the Dive Rutland professional team and apply the skills you have learnt when we are training someone with a mental and / or physical challenge
Dive with one of our club members who needs an adaptive support buddy 
This is one speciality towards your Master Scuba Diver Certification