What are you doing this Summer?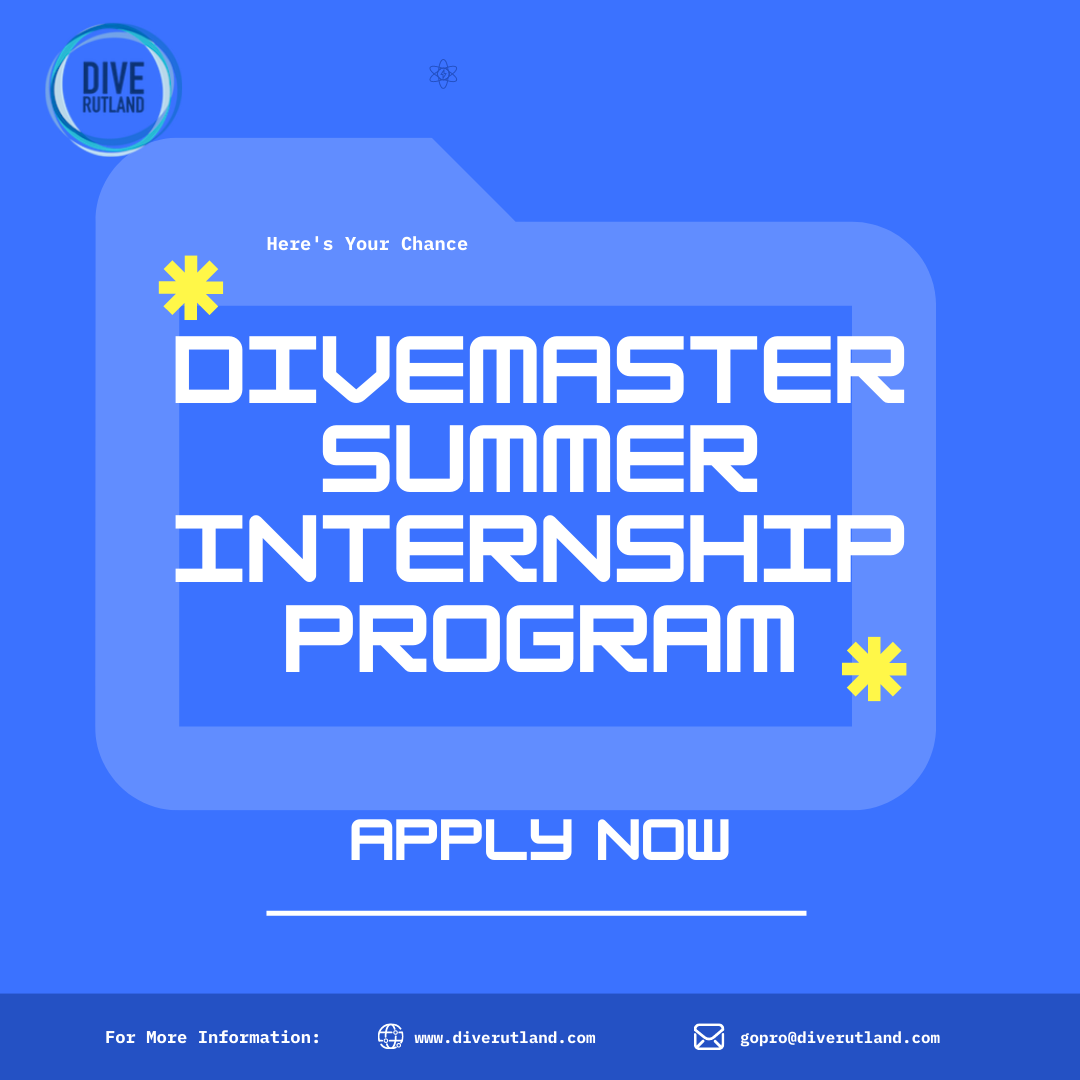 What are you doing this Summer?
Are you a Rescue diver, 18 and over and not sure what to do with yourself this summer, then why not take your first steps with us and become a Dive Professional?
Dive Rutland offers a 12 week internship during which you will be working towards a PADI Divemaster certification. Ideally, the suitable candidate(s) will be certified as PADI Rescue Diver.
By taking this first step with us at Dive Rutland you will get the best of tuition in a thoroughly professional dive centre.
The curriculum for the PADI Divemaster course is performance based and therefore the length of time required to complete the program is based on your personal development, logistical considerations and student numbers.
Successful candidates will work with Dive Rutland for a period of at least 12 weeks, between May and the end of October. During this time you will be working as part of the team assisting the instructors. 
There will be no charge, bar PADI materials and PADI certification costs, for the Divemaster Internship course or indeed for any other training we can provide for you - e.g. speciality courses etc. The cost of the course is simply offset in exchange for all the hard work over the 12 weeks of the internship.
What you get in return
For committing your summer to us, then in return you will be involved in working in the dive centre - all areas, including
Operating and day to day management of the compressor
Assisting with repairs to equipment
Managing the logistics of pool nights, open water sessions and dive trips
Assisting in the shop
Working with other members of the Dive Rutland teams assisting students whilst expanding your own knowledge and skills to the required Divemaster standard.
Undertake Surface Support and operational site logistics
Marketing and social media campaigns and creation.
Guidance and mentoring from our very own onsite PADI Course Director - Tracey Roberts
Subject to meeting the PADI Standards and requirements of the PADI Divemaster course the PADI Divemaster certification and 

First Aid at Work certification – valid for three years

Equipment Discounts
You need to be
PADI Rescue Diver with 40 logged dives but we will consider Advanced Open Water Divers with experience and as part of this internship you will also gain your Rescue Diver.
18 years old
Own your own Drysuit or hold the PADI Drysuit Speciality so you can use a school drysuit
Have experience of diving in a drysuit in the UK
Current medical statement signed by a physician to start, but we do expect you to gain an HSE Dive Medical as on completion of various in water activities you will be working with real students.
Emergency First Response (EFR) Primary and Secondary Care within the past 24 months – if you do not have, we can complete for you.
Be able to complete the swim tests - ​400m Swim / 800m Snorkel / 100m Swim Tow and 15min Tread​​​
Is there a cost to this?
Yes but only the cost of the PADI Materials and final certification approximately £450
Next Steps
For more information on the Divemaster course see our Divemaster Web page or to discuss this  summer internship please feel free to drop in for a chat, Telephone Us or just drop us an Email.
To apply all we would like is a small CV about you (via post or email)., containing information such as number of dives, places you have dived, what dive qualifications you have and finally why you would like to work with us this summer on this internship and become a Divemaster.

If applying in writing then address to:
Mrs Tracey Roberts
Dive Rutland Ltd. 1 Old Station Yard, Whissendine Road, Ashwell, Rutland, LE15 7SP
Great Opportunity but I am not Rescue Diver or old enough
Not a Rescue Diver but interested becoming a Dive Professional or just taking that next step then get in touch and let us help you plan your next steps – maybe prepare for next years Summer internship.
If you are 15 and have your Rescue Diver qualification then you can become a Junior PADI Divemaster - although not a professional qualification it is a great grounding towards the PADI Divemaster course when you become 18.
Version1: April 2022
---